Liquid Funds sahi hai
Posted On May 6, 2019
Today we will have a review on information on liquid funds,there advantages and there suitability.Many households have idle money lying in their savings bank account. Money lying idle in savings bank is not productive because it earns very little income. Banks pay 3.5 – 4% interest per annum on savings bank balances. Inflation (December 2018 – December 2017 CPI Inflation was 5.2%), then real returns on your savings bank balances are negative. Even if you compare it from FD in some cases,after TDS deduction,FD are not able to beat inflation rate. Liquid funds are much better options for parking your surplus funds.They give much higher returns compared to savings bank interest. Liquid funds on average gave 7% returns beating both savings bank interest and CPI inflation.
What are liquid funds?
These are debt mutual fund schemes which invest in Money Market instruments (including cash, reverse repo and debt instruments with maturity up to 91 days). These instruments include commercial papers, certificates of deposits, treasury bills etc. Since liquid funds invest in very short term securities, interest rate risk is very low and therefore, these funds assure high degree of safety.These funds usually provide relatively higher accrual income. There is no lock-in period  and exit load in liquid funds. You can redeem your investment partially or fully, at any time without any penalty.  Fixed income security,do have two kinds of risk – interest rate risk and credit risk. Interest rate risk depends upon the maturity / duration of the security – longer the maturity, higher is the interest rate risk. Since liquid funds invest in securities which have  maturities of less than 91 days, the interest rate risk is very low. Liquid funds typically have much lower credit risk, compared to other debt fund categories due to the very short term maturity profiles of their underlying securities.
Few important points , which should remember prior to invest in LIQUID fUNDS.
1.Liquid Funds are investment with least risk:
These funds have no relationship with Shares, Equity or Market .There is a myth that mutual fund always invest  in stock markets. So risk proportion in Liquid fund is much lower compare to which invest in equity. There are different kinds of capital market instruments with very different risk profiles e.g. debt market, stock market, money market etc. Money market is the least risky compared to other capital market instruments. These funds are among the safest mutual fund investments – in the past 10 years, there has been only 1 week, when liquid fund returns were negative.
2. Quick Withdraw money in your Bank Account without any exit load:
Redemptions in liquid funds are processed and credited to your bank account within 24 hours on business days. If you are willing to wait for 24 hours to get the funds in your bank account, then liquid funds are the best investment choices for your short term / emergency needs because they give much higher returns than your savings bank account.  You can use these fund as your emergency fund which you can withdraw at any point of time without any exit load.
3.Start investing only from Rs, 5000
You can start investing in Liquid fund with Just Rs. 5,000.  Additional investments of just Rs 1,000 or more can be made in liquid funds.The minimum amount of withdrawal is Rs.1,000. You can choose between multiple options like Growth, Dividend or Dividend Re-investment depending on your investment tenor, income needs and tax situation.
4.Best Place to Park your surplus money
If you have surplus funds but do not know where to invest or are unsure about market conditions, then you can park your money in liquid funds, accruing higher returns. when you get more clarity about where to invest (it may be real estate,gold,stocks etc), you can switch your money from liquid funds to the investment of your choice at any time, without any penalty.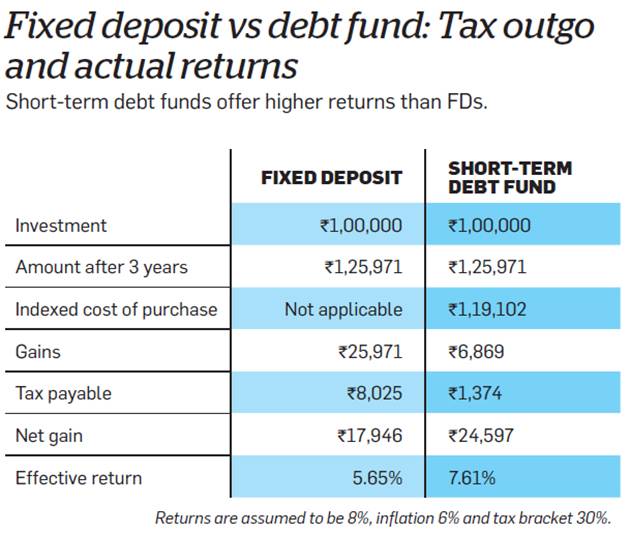 5.Best way to enter in Lump Sum Equity mutual funds:
If you want to invest in equity mutual funds than this is the best way. If you are unsure about the timing of your investment, you can invest in liquid funds and then transfer your investment in a systematic manner through Systematic Transfer Plan (STP). STP will help you to average out volatility and help average the cost of your investment.
6.Best for maximum 3 months Tenors:
The ideal for investment tenors  for liquid funds are maximum 3 months. For different tenors there are different funds.Basis on the tenor there are different funds short term, Low duration, money market funds, which may give slightly higher returns.
Conclusion
Liquid funds can help investors make their idle money work instead of keeping them in savings bank accounts. These are ideal instrument for parking funds for a period of few days, few weeks or few months. Liquid funds are even much better than FD. It provides merely same interest as FD but without any locking or Exit load. Liquid fund can beat inflation which will help to appreciate your money. So start to park your idle money which is lying in bank accounts to liquid funds.